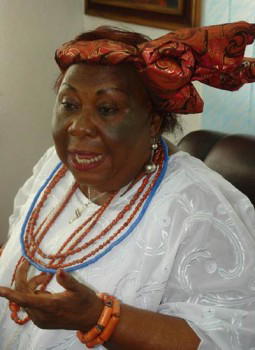 RIGHTS activist, Chief Rita Lori-Ogbebor, has said Chief Ayiri Emami will not be recognised as the Ologbotsere of Itsekiri nation, if the Olu of Warri, His Majesty Ogiame Ikenwoli, confer the title on him against the wishes of the people. She also urged the Itsekiri not to engage in violent opposition to the choice of Emami, adding that the conferment of the title on him was against the collective interest of Itsekiri nation.
CHIEF RITA LORI-OGBEBOR Briefing newsmen yesterday in Lagos, she said the Itsekiri had rejected Emami prior to his appointment, last Friday, noting that it was surprising that the Itsekiri monarch went ahead to make him the Ologbotsere. She said: "I will, therefore, not believe that the Olu will rush to confer a title on anybody because there is no reason to do so.
Above all these reasons is the fact that there is a saying, which guides the Itsekiri throne and it is Mi ni mi ni I gbo, I gbo mi ni, meaning the people own the palace and the palace owns the people. "It is this marriage between the people and the throne that makes the Itsekiri throne unique.
This is why people would die for the throne and the throne should do same. "Simply put, the Olu does not take a decision on his own without proper consultation. It would be sad if it is true that the Olu conferred any title on Ayiri. "In this case, he refuted the letter I wrote because the people refused to accept Ayriri Emami as their Ologbotsere. "The second time, the people protested that they still did not want Ayiri as their Ologbostere. Therefore, it is quite clear to the Olu that the people have spoken. "There are people who want to take Itsekiri throne and palace because of the resources and this is what the people should worry about.
Let it be clear that as the custodian of the Itsekiri throne, we shall not surrender our throne. "This is not a war of guns. This is a war of just being ourselves as a people, who do things with their brain and not with violence. "I only saw Olu, Ayiri and three chiefs somewhere. I do not see anything that suggests that a chieftaincy title was being given out. "If it is true that a chieftaincy title was given, the Olu would be putting his credibility on the line.
Please fight nobody, but just ignore Ayiri as an Ologbostere of Itsekiri people."